Dear Tim,



Over the past few weeks, a number of us at Taylor have been working on the Fall edition of The Bridge, with the theme of The Incarnation. What a daunting topic! Every year we sing of it and read of it, and we hear sermons about the coming of Immanuel, yet to develop a series of articles that explore this issue in any depth felt like a tall order. The idea of the Word made flesh is such a profound mystery!

In this issue we talk about the implications of the Incarnation for how we live, including how our ministries are at their best as they emulate the example of Christ, taking on the form of a servant. Guest authors include Dr. Allan Effa and Dr. David Williams.

Look for this issue of The Bridge in your mailbox soon, or read it online now by clicking here.

One of the stories we include in the magazine is a look back on the life of a well-loved former professor, Ed Link. An ordained pastor, Ed accepted the invitation of E.P. Wahl to join the faculty of this institution in the 1950, and he shaped our music program for well over 20 years. Prof. Link passed away this fall in Edmonton.
---
We are pleased to announce the launch of the Parish Nursing Institute as part of the E P Wahl Centre. The first edition of this certificate program will be offered in June 2017, and you can look forward to more details in the weeks ahead.

For now, we want you to know about this exciting new opportunity so that you can share the news with those in your church who are R.N.'s with a heart for ministry. Churches have a tremendous opportunity to serve those with health concerns, offering compassionate care and a ministry of healing. Pray with us that the Parish Nursing Institute will draw the students that God is calling to this ministry.
---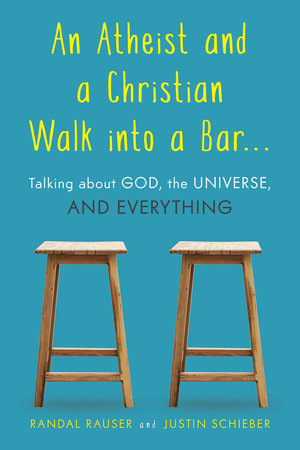 Congratulations to Theology Professor Dr. Randal Rauser on the recent publication of his newest book. Co-written with an atheist friend, Justin Scheiber, Dr. Rauser spars in friendly conversation about the existence of God.

The book is titled "An Atheist and a Christian Walk into a Bar", and feels very much like a spirited conversation between friends who disagree passionately and respectfully. It is the latest example from Dr. Rauser of healthy engagement with people who reject a fundamental tenant of Christian faith.

The book is published by Prometheus Books.
---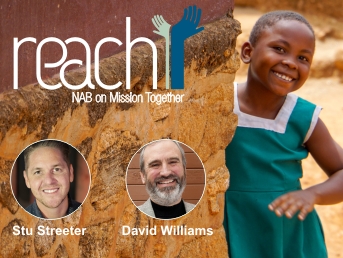 Your Invitation to
Join us for Dessert
Taylor is hosting a Dessert Night on behalf of all partners in the NAB REACH Capital Campaign. Anyone who is interested is welcome to join us to learn more about why Taylor and our sister ministries are working cooperatively to raise several million dollars to advance our ministry efforts.

January 11, 2017
Come hear Stu Streeter, Vice-President of Ministry Advancement for the NAB and David Williams, President of Taylor Seminary, on January 11, 2017, at 7:00 p.m. as they share about the REACH initiative, a global campaign to impact key ministries in the NAB family.
---
Please note the following Training Events, coming soon!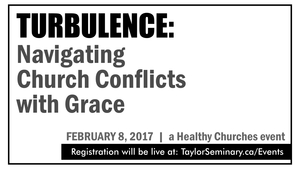 TURBULENCE: Navigating Church Conflicts with Grace – Wednesday, February 8, 2017
Misunderstandings and conflicts are inevitable within communities, including church families and even church staffs. These challenges can become a source of understanding and blessing, and can be a powerful witness to God's character.

Join us as we seek to become people of peace, as we identify ways to resolve conflicts with grace and wisdom. This day-long workshop is designed for both individuals and ministry teams.

CAPS Training Event: Advanced Excel for the Church Office – Wednesday, February 22, 2017
After a very successful full-day event in October, CAPS is offering further training in Microsoft Excel in this half-day (morning) event. Joanne Swensrude of Know IT Sooner will be teaching some advanced Excel skills. If you want to become more proficient in Excel to become more efficient with your data, plan to join us! High-value training at a value price!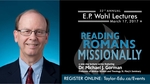 2017 E P Wahl Lectures
Becoming the Gospel: Reading Romans Missionally with Dr. Michael Gorman –
Friday, March 17, 2017
Dr. Michael Gorman's work on reading the writings of St. Paul missionally has generated a great deal of interest and conversation. Taylor is pleased to welcome this esteemed scholar as he explores the Epistle to the Romans through new eyes. Highly relevant!
Additional upcoming events include:
February 15: Sabbatical Preparation Workshop (part of the Healthy Pastors Initiative
)
April 27: Flourish (part of the Healthy Pastors Initiative
) -- Lloydminister
May 30-June 2: THRiVE 2017 (a pastoral retreat at Camp Caroline, part of the Healthy Pastors Initiative)

If 2016 was any indication, time will go quickly! We encourage you to mark these events on your calendar now, and register online or contact us with any questions you may have.
---
So -- those are some of the upcoming events that are keeping us busy. What else is happening at Taylor? Please pray with us about the following:

-A number of our students and staff are dealing with health concerns. Some of these are not shareable in a newsletter like this, but they add significantly to the challenges of work and study, as you can imagine.
-Taylor Seminary and Sioux Falls Seminary (in Sioux Falls, South Dakota) continue to explore promising opportunities to work more closely in partnership. Pray with us for wisdom and clarity.
-The Parish Nursing Institute has just been announced, and we ask you to pray with us as we finalize the details and share the news with Registered Nurses who want to use their nursing expertise in a ministry context.
-Taylor and our sister ministries in the North American Baptist Conference are in the midst of a multi-year capital campaign to raise funds for some significant ministry initiatives. We know that God will provide all that we need to do all that He asks of us, and we ask you to join us in committing the outcome of this campaign to Him.
---
A new year is coming! 2017 is sure to be a busy year of building for Taylor: building lives, relationships, and the Kingdom. We invite you to partner with us in growing your faith and the gifts God has given you through Taylor Seminary and through the training offered at the E P Wahl Centre.
God bless you in the closing days of 2016 and in all the days to come! We are grateful for your support of this ministry.

Your friends at Taylor College and Seminary
---
---
Taylor College and Seminary
11525 - 23 Avenue NW
Edmonton, Alberta T6J 4T3
CA


Read the VerticalResponse marketing policy.