New Semester Underway!
Students back on campus at Taylor Seminary
PHOTO:
Dr. David Williams speaks at the first Chapel Service of the new term.
The Winter Semester kicked off this week at Taylor Seminary. We welcomed back a host of returning students, and more than a dozen new students began their seminary journey with their first classes this week.
---
Parish Nursing Institute to be Launched in 2017
Major initiative in support of compassionate care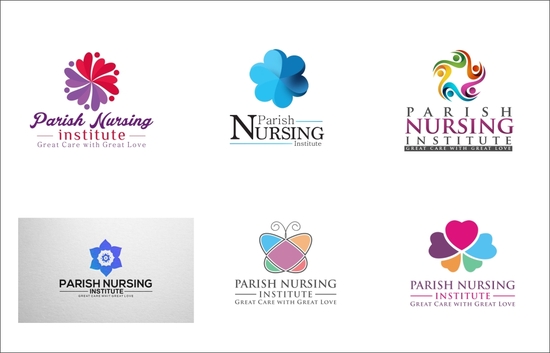 PHOTO: Pictured are a few of the logo suggestions submitted by international designers for the Parish Nursing Institute. The final design will be selected this month.
Taylor's E P Wahl Centre has announced the launch of a new initiative, the Parish Nursing Institute. The term "parish nursing" refers to those who offer compassionate care and assistance to members of a church and/or neighbourhood, using their professional medical skills. The term parish nurse is reserved specifically for Registered Nurses, and the training being offered is rooted in well-established best practices, and is being offered with the participation and blessing of the Alberta Association for Parish Nursing.
The first classes will run from June 23-30, 2017 at Taylor Seminary. We will have more details to announce shortly, including registration details and the course outline. If you want to be placed on the mailing list for more information about the Parish Nursing Institute, please send a request to Joyce.Bellous@Taylor-Edu.ca.
---
2017 E.P. Wahl Lectures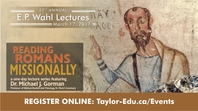 Many of us at Taylor, including students and faculty, have been quite engaged with Dr. Michael Gorman's new book Becoming the Gospel: Reading Romans Missionally. It is with great anticipation that we look forward to his appearance at Taylor as the guest lecturer at the 32nd Annual E.P. Wahl Lectures.
Registration costs have been kept low, but you'll still enjoy a tasty lunch on site along with four fascinating sessions:
9:00 AM Lecture #1:
How (Not) to Read Romans Missionally
10:30 AM Lecture #2:
Reading Romans 1-8 Missionally
1:00 PM Lecture #3:
Panel Discussion: "Reading Romans Missionally: Old, New and Fresh Perspectives on Paul"
Reading Romans 9-16 Missionally
Click here to learn more and to register
for the E.P. Wahl Lectures
---
Upcoming Events
The range of workshops and seminars offered through our Continuing Education centre continues to evolve and grow. Particular emphasis has been given to training that strengthens pastors and church staffs, and there are also events for general learning (especially related to theology and Bible study).
Here are some of the events planned for early 2017:
Feb. 8: Turbulence: Navigating Church Conflicts with Grace
Feb. 15: Sabbatical Preparation Workshop
Feb. 22: CAPS Lunch and Learn
Mar. 17: E.P. Wahl Lectures (Dr. Michael Gorman)
Apr. 27: Flourish (Lloydminster)
May 30-June 2: THRiVE! 2017 (at Camp Caroline)
June 23-30: Parish Nursing Institute
To learn more about these events, click here.

Catch Up with the latest from Taylor!
Learn more about the new events and programs at Taylor.

The Bridge -- Fall 2016 Issue
Have you seen the most recent issue of The Bridge? It's posted online for you to enjoy.

Spring Session is Coming Soon
Taylor will offer modular courses in a condensed format during Spring Session in May. Our faculty will include Dr. Ralph Korner, Dr. Randal Rauser, Joanne van Beek, Len Thompson, Dr. Allan Effa and Douglas Anderson.
Courses include:
NT 617
Book of Revelation (May 1-5)
TH 634
Christian Apologetics
(May 1-5)
MI 540
Developing Christian Social Ministries
(May 8-12)
PC 531
Essentials of Pastoral Care
(May 8-12)
PC 632
Crisis Intervention
(May 8-12)
MI 546
Global Mission Study Tour
(May 10-25)
If you'd like to join us for regular semester courses or for one of our modular course weeks, contact Rick Heavenor at 780-431-5215 or email Rick.Heavenor@Taylor-Edu.ca